Eileen Myles
Acclaimed Poet and Critic
Lambda Pioneer Award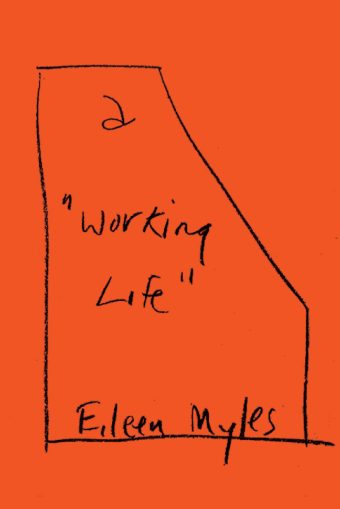 Readings &
Lecture Topics
• An Evening with Eileen Myles
Biography
"Myles's work is kinetic, ecstatic, muscular, hilarious, sorrowful, valiant, original, necessary, and timeless." —Maggie Nelson
"Myles is that rare creature, a rock star of poetry." —Boston Globe
"A kick-ass counter-cultural icon." —New Yorker

Widely renowned, poet, novelist, performer, and art journalist, Eileen Myles is a trailblazer whose decades of literary and artistic work, in the words of the New York Review of Books, "set a bar for openness, frankness, and variability few lives could ever match." Myles is the author of more than twenty books including a "Working Life" (Grove, 2023), I Must Be Living Twice: New & Selected Poems, and a re-issue of Chelsea Girls. Poems written by—and a character based on—Myles appeared in seasons 2 and 3 of the Emmy-winning Amazon show Transparent. Their memoir, Afterglow (a dog memoir), (Grove, 2017) paints a kaleidoscopic portrait of a beloved confidant: the pit bull called Rosie. Jennifer Krasinski writing for The Village Voice said: "Their exquisite slapstick tragedy Afterglow is a radical memoir about and for and by their now-deceased but forever-beloved pitbull Rosie, who the poet believes is a dead ringer for their dead father."
Their other books include For Now (2020), Evolution (2018), Snowflake/different streets (2012), Inferno: A Poet's Novel ( 2010), The Importance of Being Iceland: Travel Essays in Art (2009), Sorry, Tree (2007), Tow (2005, with artists Larry C. Collins), Skies (2001), on my way (2001), Cool for You (novel, 2000), School of Fish (1997), Maxfied Parrish (1995), Not Me (1991), and Chelsea Girls (1994). In 1995, with Liz Kotz, they edited The New Fuck You: Adventures in Lesbian Reading. Most recently, they edited Pathetic Literature (Grove Atlantic, 2022), an utterly unique collection composed by the award-winning poet, a global anthology of pieces that examines pathos and feeling, giving a well-timed rehab to the word "pathetic."
As a poet and art journalist, they have contributed to a wide number of publications including Art Forum, The New Yorker, Harpers, Parkett, The Believer, Vice, Cabinet, The Nation, TimeOut, Paris Review, and AnOther Magazine. They often contribute essays to catalogs for major exhibitions such as the Whitney and Liverpool Biennials.
Eileen Myles was born in Cambridge, Massachusetts in 1949, attended Catholic schools in Arlington, and graduated from the University of Massachusetts (Boston) in 1971. They came to New York in 1974 to be a poet. Their poetic education primarily took place at St. Mark's Poetry Project from 1975 to 1977, through attending readings and participating in workshops led by Alice Notley, Ted Berrigan, and Paul Violi. From 1984 to 1986 Eileen was the artistic director of St. Mark's Poetry Project.
From 1977 to 1979 they published dodgems, a poetry magazine that represented a collision of New York School, Language Poetry, performance texts, unconventional prose, as well as tossed-off notes from neighbors and celebrities. In 1977, they co-edited the feminist anthology Ladies Museum, and in 1979 they worked as an assistant to poet James Schuyler. That same year, Myles was a founding member of the Los Texans Collective (with Elinor Nauen and Barbara McKay), which went on to produce the play Patriarchy and the spiritual entertainment Joan of Arc.
Eileen Myles has toured and read all over North America and Europe on and off since the early 1980s. Their solo performances include Leaving New York (1989), Life (1991), and Summer in Russia (1996) at PS 122 in New York. Their plays include Feeling Blue (Parts 1, 2, and 3) at Modern Art, and Our Sor Juana Ines de la Cruz, written for Alina Troyano and produced at PS 122. In 2004, they wrote the libretto for the opera Hell, composed by Michael Webster. In 2010, they created and directed their Dia Center for the Arts performance piece, The Collection of Silence, which involved dancers, poets, children, visual artists, and Buddhists in a collective public act of silence at the Hispanic Society in New York.
Eileen Myles is the recipient of a Guggenheim Fellowship in non-fiction, an Andy Warhol/Creative Capital art writers' grant, four Lambda Book Awards, the Shelley Prize from the PSA, was named to the Slate/Whiting Second Novel List in 2015, and received a poetry award from the Foundation for Contemporary Arts. In 2016 they received a Creative Capital grant and the Clark Prize for excellence in art writing as well as the Lambda Pioneer Award for contributions to the LGBT literary community. They live in Marfa,TX and New York City.
Short Bio
Eileen Myles the author of more than twenty books, including a "Working Life," For Now, Evolution, Afterglow (a dog memoir), Chelsea Girls, and I Must Be Living Twice: New & Selected Poems 1974-2014. Myles's many honors include four Lambda Literary Awards, the Clark Prize for Excellence in Arts Writing, the Shelley Memorial Award from the Poetry Society of America, Creative Capital's Literature Award as well as their Andy Warhol Foundation Arts Writers Grant, and a Foundation for Contemporary Arts grant. Myles lives in Marfa, Texas, and New York City.
Visit Author Website
Videos
Publications
Articles & Audio
Selected Writings
• "pencil & pen" by Eileen Myles – The New Yorker
• A Prose Poem By Eileen Myles: 'Ann Lee' – LitHub
WHAT TREE AM I WAITING
That whole part of the world
where I won't go any-
more
that whole separation
that I won't feel
high in this house
in this hemisphere
in this artificial light
that is artificial
in the earliest morning; dark
in pages and pens
in an unfamiliar bed
in the foot curl
furniture
each rumble
when morning comes
and it's still morning
and it's still night
I married a dead girl
we were born in her bloom
remember that fat bumblebee
landed on a lamp
I opened the doors
and I forgot and the house
got colder and colder
where is this house
the seam between boards
merely gains my attention
it's dark and thin
I monitor each situation
my bladder growing full
climb down climb up
what tree am I waiting
my whole life in weather
waiting for my raft
I'll fly to another island
I'll take a train
already I know
it will hurt
this is the hurt country
I came here
to hold the hurt like a bird
like a tree
traffic has rings
we watch it whirl around
damaging our night
great continents hold
the feelings and the ages
what is mine
going blind
great masses of them
not going home
the country drew a line
because of memory
one said
I feel my heart race ahead
in eternity there is this ache
there is this wakefulness
— from I Must Be Living Twice
Download Assets
Book Covers
---
Artist Photos