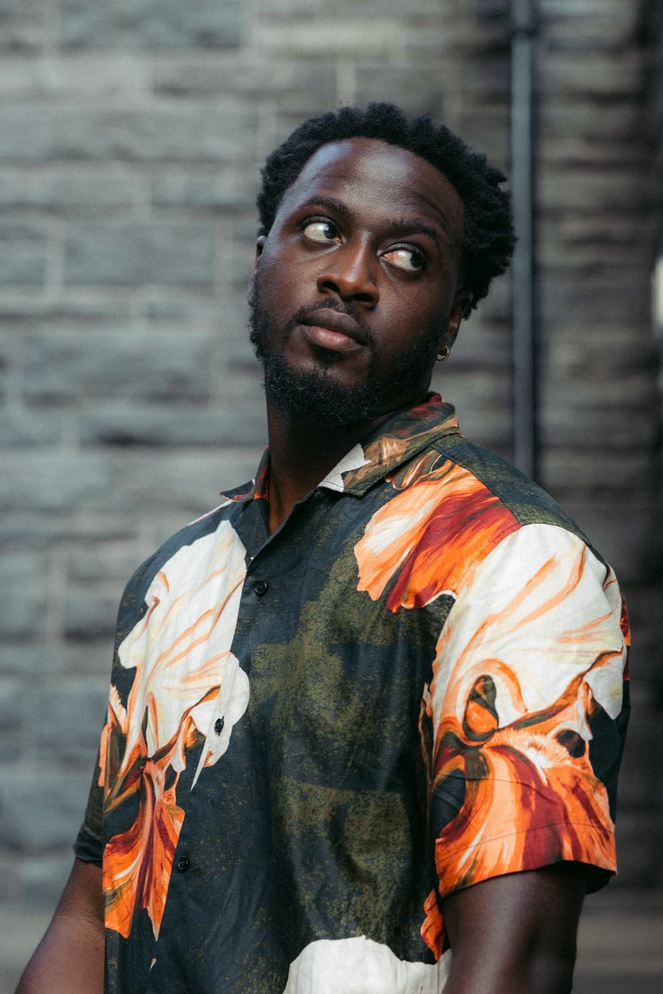 Nana Kwame Adjei-Brenyah
Bestselling Fiction Writer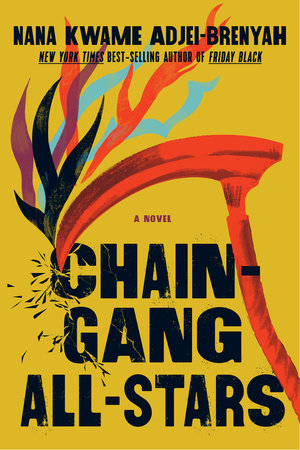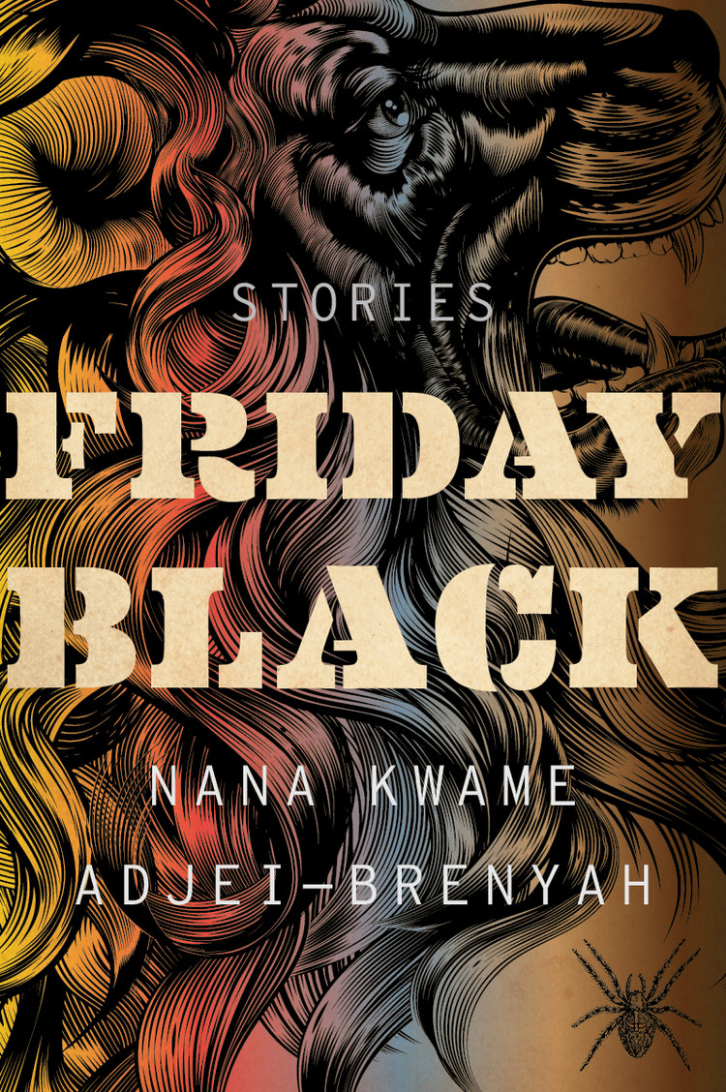 Readings &
Lecture Topics
An Evening with Nana Kwame Adjei-Brenyah
Biography
"Inventive, stirring, ingenious. Adjei-Brenyah is a versatile writer who creates a micro-universe with each story that explodes our expectations and takes us inside frustrated lives." —Bernardine Evaristo
"Brutal, maximalist, and often gorgeously profane missiles of dystopian satire." –Esquire
Nana Kwame Adjei-Brenyah is the New York Times-bestselling author of Friday Black (Mariner Books, 2018). Of the collection, George Saunders notes, "These stories are an excitement and a wonder: strange, crazed, urgent and funny, yet classical in the way they take on stubborn human problems: the depravities of capitalism, love struggling to assert itself within heartless systems. The wildly talented Adjei-Brenyah has made these edgy tales immensely charming, via his resolute, heartful, immensely likeable narrators, capable of seeing the world as blessed and cursed at once."
Adjei-Brenyah's debut novel, Chain-Gang All-Stars, (Penguin Random House, 2023) was longlisted for the The Center for Fiction's 2023 First Novel Prize and the National Book Award in Fiction. About the book, Kiese Laymon says, "In a narrative world where the real is growingly more unbelievable than the make believe, Nana Kwame Adjei-Brenyah's Chain-Gang All-Stars is an uncanny, singular feat of literature. I've never read satire so bruising, so brolic, so tender and really, so pitch-perfect."
Adjei-Brenyah was selected by Colson Whitehead as one of the National Book Foundation's "5 Under 35" honorees, the winner of the PEN/Jean Stein Book Award, and a finalist for the National Book Critics Circle's John Leonard Award for Best First Book and the Aspen Words Literary Prize. His work has appeared or is forthcoming from numerous publications, including the New York Times Book Review, Esquire, Literary Hub, the Paris Review, Guernica, and Longreads.
Originally from Spring Valley, New York, he graduated from SUNY Albany and went on to receive his MFA from Syracuse University.
Short Bio
Nana Kwame Adjei-Brenyah is the author of the bestselling short story collection Friday Black and the novel Chain-Gang All-Stars. His work has appeared or is forthcoming in numerous publications, including Guernica, Compose: A Journal of Simply Good Writing, Printer's Row, Gravel, and The Breakwater Review, where he was selected by ZZ Packer as the winner of the 2nd Annual Breakwater Review Fiction Contest. He is from Spring Valley, New York. He graduated from SUNY Albany and went on to receive his MFA from Syracuse University.
Visit Author Website
Videos
Publications
Chain-Gang All-Stars
Novel, 2023
Loretta Thurwar and Hamara "Hurricane Staxxx" Stacker are the stars of Chain-Gang All-Stars, the cornerstone of CAPE, or Criminal Action Penal Entertainment, a highly-popular, highly-controversial, profit-raising program in America's increasingly dominant private prison industry. It's the return of the gladiators and prisoners are competing for the ultimate prize: their freedom. In CAPE, prisoners travel as Links in Chain-Gangs, competing in death-matches for packed arenas with righteous protestors at the gates. Thurwar and Staxxx, both teammates and lovers, are the fan favorites. And if all goes well, Thurwar will be free in just a few matches, a fact she carries as heavily as her lethal hammer. As she prepares to leave her fellow Links, she considers how she might help preserve their humanity, in defiance of these so-called games, but CAPE's corporate owners will stop at nothing to protect their status quo and the obstacles they lay in Thurwar's path have devastating consequences. Moving from the Links in the field to the protestors to the CAPE employees and beyond, Chain-Gang All-Stars is a kaleidoscopic, excoriating look at the American prison system's unholy alliance of systemic racism, unchecked capitalism, and mass incarceration, and a clear-eyed reckoning with what freedom in this country really means from a "new and necessary American voice" (Tommy Orange, The New York Times Book Review).
Friday Black
Short Story, 2018
"Dark and captivating and essential. A call to arms and a condemnation. Read this book." —Roxane Gay
From the start of this extraordinary debut, Nana Kwame Adjei-Brenyah's writing will grab you, haunt you, enrage and invigorate you. By placing ordinary characters in extraordinary situations, Adjei-Brenyah reveals the violence, injustice, and painful absurdities that black men and women contend with every day in this country. These stories tackle urgent instances of racism and cultural unrest, and explore the many ways we fight for humanity in an unforgiving world. In "The Finkelstein Five," Adjei-Brenyah gives us an unforgettable reckoning of the brutal prejudice of our justice system. In "Zimmer Land," we see a far-too-easy-to-believe imagining of racism as sport. And "Friday Black" and "How to Sell a Jacket as Told by Ice King" show the horrors of consumerism and the toll it takes on us all. Entirely fresh in its style and perspective, and sure to appeal to fans of Colson Whitehead, Marlon James, and George Saunders, Friday Black confronts readers with a complicated, insistent, wrenching chorus of emotions, the final note of which, remarkably, is hope.
Articles & Audio
Selected Writings
• "The Freeing of Melancholia Bishop" an excerpt from Chain Gang All-Stars by Nana Kwame Adjei-Brenyah
• "Why Do You Write Political Stories?" by Nana Kwame Adjei-Brenyah – The Paris Review
• "An Open Letter to My Mentors" by Nana Kwame Adjei-Brenyah – LitHub
FRIDAY BLACK
Excerpt from the short story by Nana Kwame Adjei-Brenyah
Get to your sections!" Angela screams.
Ravenous humans howl. Our gate whines and rattles as they shake and pull, their grubby fingers like worms through the grating. I sit atop a tiny cabin roof made of hard plastic. My legs hang near the windows, and fleeces hang inside of it. I hold my reach, an eight-foot-long metal pole with a small plastic mouth at the end for grabbing hangers off the highest racks. I also use my reach to smack down Friday heads. It's my fourth Black Friday. On my first, a man from Connecticut bit a hole into my tricep. His slobber hot. I left the sales floor for ten minutes so they could patch me up. Now I have a jagged smile on my left arm. A sickle, half circle, my lucky Friday scar. I hear Richard's shoes flopping toward me. "You ready, big guy?" he asks. I open one eye and look at him. I've never not been ready, so I don't say anything and close my eyes again. "I get it; I get it. Eye of the tiger! I like it," Richard says. I nod slowly. He's nervous. He's a district manager, and this is the Prominent Mall. We're the biggest store in his territory. We're supposed to do a million over the next thirty days. Most of it's on me.
Download Assets
Book Covers
---
Artist Photos