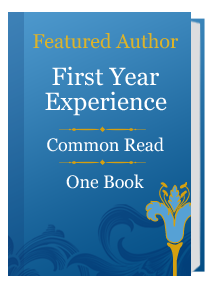 "George Saunders is a complete original, unlike anyone else, thank god…There is no one better, no one more essential to our national sense of self and sanity." —Dave Eggers
"With his concise, unorthodox and daring work, [Saunders] proves that the true subversives are not those who shout. They are those with the insight and mastery to show us a world that seems hilariously impossible and horrifyingly likely at the same time."  —Telegraph
"The best short story writer in English—not 'one of',' not 'arguably', but the Best." —Time
The recipient of a 2006 MacArthur Foundation Fellowship ("Genius" Award), George Saunders is the author of a novel, four collections of short stories, a novella, a book of essays, and an award-winning children's book. His long-awaited novel, Lincoln in the Bardo, was published in 2017; which Colson Whitehead noted as: "A luminous feat of generosity and humanism." His most recent book is the A Swim in a Pond in the Rain (Penguin Random House, 2021), which offers a literary masterclass on what makes great stories work, how to become both a better writer and reader, and what they can tell us about how to live. In 2017, Saunders won the Man Booker Prize for his novel Lincoln in the Bardo. His collection, Tenth of December (Random House, 2013), was a finalist for the National Book Award, and winner of the 2014 Story Prize for short fiction and the 2014 Folio Prize, which celebrates the best fiction of our time. Chair of the Judges for the Folio Prize, Lavinia Greenlaw, said: "George Saunders's stories are both artful and profound. Darkly playful, they take us to the edge of some of the most difficult questions of our time and force us to consider what lies behind and beyond them. His subject is the human self under ordinary and extraordinary pressure. His worlds are heightened versions of our own, full of inexorable confrontations from which we are not easily released. Unflinching, delightful, adventurous, compassionate, he is a true original whose work is absolutely of the moment. We have no doubt that these stories will prove only more essential in years to come." Tenth of December was also named one of the ten best books of the year by The New York Times Book Review, and the collection, and Saunders' work, was highlighted in a New York Times Magazine cover story.
Saunders's other collections include the bestselling Pastoralia, set against a warped, hilarious, and terrifyingly recognizable American landscape; CivilWarLand in Bad Decline, a Finalist for the PEN/Hemingway Award, and In Persuasion Nation, one of three finalists for the 2006 Story Prize for best short story collection of the year. Pastoralia, CivilWarLand in Bad Decline, and Tenth of December were all New York Times Notable Books.
Saunders is also the author of the novella-length illustrated fable, The Brief and Frightening Reign of Phil, which takes us into a profoundly strange country called Inner Horner, and the New York Times bestselling children's book, The Very Persistent Gappers of Frip, illustrated by Lane Smith, which has won major children's literature prizes in Italy and the Netherlands. The Boston Globe lauds Saunders' ability to "construct a story of absurdist satire, then locate within it a moment of searing humanity." Congratulations, by the Way (Random House, 2014) is a book containing the funny yet uplifting graduation speech Saunders gave at Syracuse University, which went viral shortly after its delivery.
Saunders' book of essays, The Braindead Megaphone (2007), received critical acclaim and landed him spots on The Charlie Rose Show, Late Night with David Letterman, and The Colbert Report. Vanity Fair wrote of the book, "Saunders's bitingly clever and compassionate essays are a Mark Twain-syle shot in the arm for Americans, an antidote to the dumbing down virus plaguing our country. Well, we live in hope." His work appears regularly in The New Yorker, GQ, and Harpers Magazine, and has appeared in the O'Henry, Best American Short Story, Best Non-Required Reading, and Best American Travel Writing anthologies.
In 2001, Saunders was selected by Entertainment Weekly as one of the one hundred top most creative people in entertainment, and by The New Yorker in 2002 and one of the best writers 40 and under.  In 2006, he was awarded both a MacArthur Fellowship, for "bring[ing] to contemporary American fiction a sense of humor, pathos, and literary style all his own," and a Guggenheim Fellowship. In 2013 TIME Magazine listed Saunders on its list of 100 Most Influential People in the World. He teaches in the Creative Writing Program at Syracuse University.

George Saunders is the author of a novel, four collections of short stories, a novella, and a book of essays. His long-awaited novel and most recent book, Lincoln in the Bardo, was published in 2017 and helped him earn the Man Booker Prize. Saunders's collection, Tenth of December, was the winner of the 2014 Story Prize and the 2014 Folio Prize. The recipient of a 2006 MacArthur Foundation Genius grant, his work appears regularly in The New Yorker, GQ, and Harpers Magazine, and has appeared in the O'Henry, Best American Short Story, Best Non-Required Reading, and Best American Travel Writing anthologies. He is the recipient of a Guggenheim Fellowship and was named one of the 100 Most Influential People in the World by TIME Magazine in 2013.

A SWIM IN A POND IN THE RAIN (Nonfiction, 2021)
In A Swim in a Pond in the Rain, George Saunders guides the reader through seven classic Russian short stories he's been teaching for twenty years as a professor in the prestigious Syracuse University graduate MFA creative writing program. Paired with stories by Chekhov, Turgenev, Tolstoy, and Gogol, these essays are intended for anyone interested in how fiction works and why it's more relevant than ever in these turbulent times. Saunders approaches each of these stories technically yet accessibly, and through them explains how narrative functions; why we stay immersed in a story and why we resist it; and the bedrock virtues a writer must foster. For the process of writing, Saunders reminds us, is as much a craft as it is a quality of openness and a willingness to see the world through new eyes. Funny, frank, and rigorous, A Swim in a Pond in the Rain ultimately shows how great fiction can change a person's life and become a benchmark of one's moral and ethical beliefs.
LINCOLN IN THE BARDO (Novel, 2017)
"This really stood out because of its innovation — its very different styling and the way in which it paradoxically brought to life these not-quite-dead souls in this other world." –Lola Young, Man Booker Prize Judge
In his long-awaited first novel, American master George Saunders delivers his most original, transcendent, and moving work yet. Unfolding in a graveyard over the course of a single night, narrated by a dazzling chorus of voices, Lincoln in the Bardo is a literary experience unlike any other—for no one but Saunders could conceive it.
February 1862. The Civil War is less than one year old. The fighting has begun in earnest, and the nation has begun to realize it is in for a long, bloody struggle. Meanwhile, President Lincoln's beloved eleven-year-old son, Willie, lies upstairs in the White House, gravely ill. In a matter of days, despite predictions of a recovery, Willie dies and is laid to rest in a Georgetown cemetery. "My poor boy, he was too good for this earth," the president says at the time. "God has called him home." Newspapers report that a grief-stricken Lincoln returned to the crypt several times alone to hold his boy's body.
From that seed of historical truth, George Saunders spins an unforgettable story of familial love and loss that breaks free of its realistic, historical framework into a thrilling, supernatural realm both hilarious and terrifying. Willie Lincoln finds himself in a strange purgatory, where ghosts mingle, gripe, commiserate, quarrel, and enact bizarre acts of penance. Within this transitional state—called, in the Tibetan tradition, the bardo—a monumental struggle erupts over young Willie's soul.
Lincoln in the Bardo is an astonishing feat of imagination and a bold step forward from one of the most important and influential writers of his generation. Formally daring, generous in spirit, deeply concerned with matters of the heart, it is a testament to fiction's ability to speak honestly and powerfully to the things that really matter to us. Saunders has invented a thrilling new form that deploys a kaleidoscopic, theatrical panorama of voices—living and dead, historical and invented—to ask a timeless, profound question: How do we live and love when we know that everything we love must end?
CONGRATULATION, BY THE WAY (Nonfiction, 2014)
Three months after George Saunders gave a convocation address at Syracuse University, a transcript of that speech was posted on the web site of The New York Times, where its simple, uplifting message struck a deep chord. Within days, it went viral and has been shared more than one million times. Why? Because Saunders's words tap into a desire in all of us to lead kinder, more fulfilling lives. Powerful, funny, and wise, Congratulations, by the way is an inspiring message from one of today's most influential and original writers.
TENTH OF DECEMBER (Stories, 2013)
One of the most important and blazingly original writers of his generation, George Saunders is an undisputed master of the short story, and Tenth of December is his most honest, accessible, and moving collection yet. The unforgettable characters that populate these pages are vividly and lovingly infused with Saunders's signature blend of exuberant prose, deep humanity, and stylistic innovation. Writing brilliantly and profoundly about class, sex, love, loss, work, despair, and war, Saunders cuts to the core of the contemporary experience. These stories take on the big questions and explore the fault lines of our own morality, delving into the questions of what makes us good and what makes us human. Unsettling, insightful, and hilarious, the stories in Tenth of December-through their manic energy, their focus on what is redeemable in human beings, and their generosity of spirit—not only entertain and delight; they fulfill Chekhov's dictum that art should "prepare us for tenderness."
THE BRAINDEAD MEGAPHONE (Essays, 2007)
The breakout book from "the funniest writer in America." George Saunders's first foray into nonfiction is comprised of essays on literature, travel, and politics. At the core of this unique collection are Saunders's travel essays based on his trips to seek out the mysteries of the "Buddha Boy" of Nepal, to attempt to indulge in the extravagant pleasures of Dubai, and to join the exploits of the minutemen at the Mexican border. Saunders expertly navigates the works of Mark Twain, Kurt Vonnegut, and Esther Forbes, and leads the reader across the rocky political landscape of modern America. Emblazoned with his trademark wit and singular vision, Saunders's endeavor into the art of the essay is testament to his exceptional range and ability as a writer and thinker.
THE BRIEF AND FRIGHTENING REIGN OF PHIL (Novel, 2005)
In a profoundly strange country called Inner Horner, large enough for only one resident at a time, citizens waiting to enter the country fall under the rule of the power-hungry and tyrannical Phil, setting off a chain of injustice and mass hysteria. An Animal Farm for the twenty-first century, this is an incendiary political satire of unprecedented imagination, spiky humor, and cautionary appreciation for the hysteric in everyone.

VICTORY LAP (excerpt from story)
For months afterward she had nightmares in which Kyle brought the rock down. She was on the deck trying to scream his name but nothing was coming out. Down came the rock. Then the guy had no head. The blow just literally dissolved his head. Then his body tumped over and Kyle turned to her with this heartbroken look of, My life is over. I killed a guy.
Why was it, she sometimes wondered, that in dreams we can't do the simplest things? Like a crying puppy is standing on some broken glass and you want to pick it up and brush the shards off its pads but you can't because you're balancing a ball on your head. Or you're driving and there's this old guy on crutches, and you go, to Mr. Feder, your Driver's Ed teacher, Should I swerve? And he's like, Uh, probably. But then you hear this big clunk and Feder makes a negative mark in his book.
—from Tenth of December
THE GREAT DIVIDER (excerpt from essay)
Once upon a time, there was a wealthy country. Just to the south was a poor country. Between them ran a border. People from the poor country were always sneaking over, trying to partake of the wealth of the wealthy country. The people in the wealthy country resented this. Or some did. Some seemed fine with it, and even helped them once they got here. Some said it was a crisis and a big wall was needed. Others said: What crisis? It's been going on for years, plus they work so cheap, you want to pay nine bucks for a freaking quart of strawberries? The national media seized on the story and, as always, screwed it up: reduced it to pithy sound bites, politicized it, and injected it with faux urgency, until, lo, the nation was confused. Then, a man, a Writer—me, actually "decided to venture forth, to find some answers."
—from The Braindead Megaphone
THE FALLS (excerpt from story)
Boy oh boy, could life be a torture. Could life ever force a fellow into a strange, dark place from which he found himself doing graceless, unforgivable things like casting aspersions on his beloved firstborn. If only he could escape BlasCorp and do something significant, such as discover a critical vaccine. But it was too late, and he had never been good at biology and in fact had flunked it twice. But some kind of moment in the sun would certainly not be unwelcome. If only he could be a tortured prisoner of war who not only refused to talk but led the other prisoners in rousing hymns at great personal risk. If only he could witness an actual miracle or save the president from an assassin or win the Lotto and give it all to charity. If only he could be part of some great historical event like the codgers he saw on PBS who had been slugged in the Haymarket Riot or known Medgar Evers or lost beatific mothers on the Titanic. His childhood dreams had been so bright, he had hoped for so much, it couldn't be true that he was a nobody, although, on the other hand, what kind of somebody spends the best years of his life swearing at a photocopier? Not that he was complaining.
—from Pastoralia