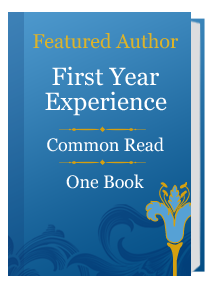 "The essayist Eula Biss is something of a specialist at handling our twitchiest, most combustible metaphors." —New York Times
"Biss may be the most relevant essayist going." —Barnes and Noble Review
"Our fears are informed by history and economics, by social power and stigma, by myths and nightmares." —Eula Biss 
Eula Biss is the author of four books, most recently Having and Being Had, which Cathy Park Hong calls "a revelatory and necessary primer on how late capitalism affects our daily lives." Her book On Immunity was named one of the Ten Best Books of 2014 by the New York Times Book Review and Notes from No Man's Land won the National Book Critics Circle Award for criticism in 2009.
"Eula Biss is something of a specialist at handling our twitchiest, most combustible metaphors," Parul Sehgal writes in the New York Times Book Review. Biss has a longtime interest in the artistic possibilities of politically charged material. Drawing on both poetry and essay, her work often resists conventional genre classifications. Her first book The Balloonists (2002) was written in prose, published as poetry, and reviewed as both fiction and memoir. A feminist meditation on love and the limits of romance, The Balloonists chronicles a young woman's refusal of marriage and her attempt to live a new story. The poet Martín Espada called this work "a most impressive debut" and The Believerpraised it as "aesthetically risky." With this book, Biss put herself in conversation with contemporary genre-resistors such as Anne Carson, Hilton Als, Maggie Nelson, Aisha Sabatini Sloan, Nathalie Léger, John Keene, Jenny Offill, and Claudia Rankine.
Biss's second book Notes from No Man's Land: American Essays (Graywolf 2009) is a personal exploration of whiteness and racial injustice in the United States. As Biss moves across the country from New York to California to the Midwest, her essays move across time from Jim Crow lynchings to post-war white flight to contemporary gentrification. Notes from No Man's Land won the National Book Critics Circle Award for criticism and Salon called it "the most accomplished book of essays anyone has written or published so far in the 21st Century."
Biss's third book On Immunity: An Inoculation (Graywolf 2014) is a wide-ranging investigation of the myths and metaphors surrounding vaccination. Written from the perspective of a new mother, it explores questions raised by parenting, privilege, feminism, environmentalism, science fiction, and political power. On Immunity was a New York Times bestseller and a finalist for the National Book Critics Circle Award in criticism. It was named one of the Ten Best Books of 2014 by the New York Times Book Review, the Chicago Tribune, the Los Angeles Times, New York Magazine, Entertainment Weekly, Publisher's Weekly, Time Out New York, and Newsday.
Biss's most recent book Having and Being Had (Penguin 2020) is composed of nearly one-hundred titled works that combine the brevity of poetry with the frank intimacy of a diary. This book explores the value system behind property ownership and the terms we use to understand, or misunderstand, our relationship to money and class. "Having and Being Had, rather than leading through narrative, turns individual words and phrases, like capitalism, consumers, great America, husbandry, art, and work, into fields of inquiry in order to frame a life," writes Claudia Rankine, who calls the book, "a major achievement."
Biss's books have been selected for common reads at Trinity University, Washington University, Seattle University, the University of Kansas, the University of Cincinnati, and Western Michigan School of Medicine, among others. Biss has taught workshops as a visiting writer at MFA programs across the country and has given readings and lectures at institutions including Duke University, Emory University, Sarah Lawrence College, Boston College, Bennington College, Columbia School of the Arts, Columbia University Medical Center, and Georgetown University.
Her work has been translated into over ten languages and has been recognized by a Guggenheim Fellowship, a National Endowment for the Arts Literature Fellowship, a Howard Foundation Fellowship, a Rona Jaffe Writers' Award, a 21st Century Award from the Chicago Public Library, and a Pushcart Prize. Her essays and poems have recently appeared in the New Yorker, the Guardian, the Times Literary Supplement, The Believer, Harper's, and the New York Times Magazine. Biss holds an MFA in nonfiction writing from the University of Iowa.

Eula Biss is the author of four books, most recently Having and Being Had. Her book On Immunity was named one of the Ten Best Books of 2014 by the New York Times Book Review, and Notes from No Man's Land won the National Book Critics Circle award for criticism in 2009. Her essays and prose poems have recently appeared in the Guardian, the New York Review of Books, The Believer, Freeman's, Jubilat, the Baffler, Harper's, and the New York Times Magazine. Biss holds an MFA in nonfiction writing from the University of Iowa.

HAVING AND BEING HAD (Nonfiction, 2020)
"My adult life can be divided into two distinct parts," Eula Biss writes, "the time before I owned a washing machine and the time after." Having just purchased her first home, she now embarks on a roguish and risky self-audit of the value system she has bought into. The result is a radical interrogation of work, leisure, and capitalism. Described by The New York Times as a writer who "advances from all sides, like a chess player," Biss brings her approach to the lived experience of capitalism. Playfully ranging from IKEA to Beyoncé to Pokemon, across bars and laundromats and universities, she asks, of both herself and her class, "In what have we invested?"
ON IMMUNITY: AN INOCULATION (Essays, 2014)
"A thoughtful and probing analysis of the cultural myths surrounding vaccination. Biss mines within herself and within her community to understand how and why such myths gain traction in society." —Danielle Ofri, MD
Why do we fear vaccines? A provocative examination by Eula Biss, the author of Notes from No Man's Land, winner of the National Book Critics Circle Award. Upon becoming a new mother, Eula Biss addresses a chronic condition of fear—fear of the government, the medical establishment, and what is in your child's air, food, mattress, medicine, and vaccines. She finds that you cannot immunize your child, or yourself, from the world. In this bold, fascinating book, Biss investigates the metaphors and myths surrounding our conception of immunity and its implications for the individual and the social body. As she hears more and more fears about vaccines, Biss researches what they mean for her own child, her immediate community, America, and the world, both historically and in the present moment. She extends a conversation with other mothers to meditations on Voltaire's Candide, Bram Stoker's Dracula, Rachel Carson's Silent Spring, Susan Sontag's AIDS and Its Metaphors, and beyond. On Immunity is a moving account of how we are all interconnected—our bodies and our fates.
In their starred review, Kirkus Review writes, "Biss ably tracks the progress of immunization. . . . Biss also administers a thoughtful, withering critique to more recent fears of vaccines—the toxins they carry, from mercury to formaldehyde, and accusations of their role in causing autism. The author keeps the debate lively and surprising, touching on Rachel Carson here and 'Dr. Bob' there. She also includes her father's wise counsel, which accommodates the many sides of the topic but arrives at a clear point of view: Vaccinate. Brightly informative, giving readers a sturdy platform from which to conduct their own research and take personal responsibility."
NOTES FROM NO MAN'S LAND: AMERICAN ESSAYS (Essays, 2009)
"I fought with this book. I shouted, 'Amen!' I cursed at it for being so wildly wrong and right. It's so smart, combative, surprising, and sometimes shocking that it kept me twisting and turning in my seat like I was on some kind of sociopolitical roller coaster ride. Eula Biss writes with equal parts beauty and terror. I love it." —Sherman Alexie
"Biss's examination of America's complicated racial heritage offers penetrating insight." —Time Out New York
In a book that begins with a series of lynchings and ends with a series of apologies, Eula Biss explores race in America.  Her response to the topic is informed by the experiences chronicled in these essays — teaching in a Harlem school on the morning of 9/11, reporting for an African American newspaper in San Diego, watching the aftermath of Katrina from a college town in Iowa, and settling in Chicago's most diverse neighborhood.  As Biss moves across the country from New York to California to the Midwest, her essays move across time from biblical Babylon to the freedman's schools of Reconstruction to a Jim Crow mining town to post-war white flight.  She brings an eclectic education to the page, drawing variously on the Eagles, Laura Ingalls Wilder, James Baldwin, Alexander Graham Bell, Joan Didion, religious pamphlets, and reality television shows. These spare, sometimes lyric essays explore the legacy of race in America, artfully revealing in intimate detail how families, schools, and neighborhoods participate in preserving racial privilege.  Faced with a disturbing past and an unsettling present, Biss still remains hopeful about the possibilities of American diversity, "not the sun-shininess of it, or the quota-making politics of it, but the real complexity of it."
THE BALLOONISTS (Poetry, 2002)
"With deceptively quiet, unflinching compassion, Eula Biss records the perceptual wedges that cleave the self from its origins. The family history refracted here is mutable, notable, more gravid than grave. The Balloonists holds a fresh line on confession, biography, and the formal uses of information in poetry" —Rebecca Wolff.
A lyric meditation on love and the limits of romance, The Balloonists is a refusal of marriage. Told through metaphor and intimate experience, this genre-defying work chronicles a young woman's attempt to live a new story.

FEAR, RACISM, AND THE HISTORICALLY TROUBLING ATTITUDE OF AMERICAN PIONEERS
"What is it about water that always affects a person?" Laura Ingalls Wilder wrote in her 1894 diary. "I never see a great river or lake but I think how I would like to see a world made and watch it through all its changes."
Forty years later, she would reflect that she had "seen the whole frontier, the woods, the Indian country of the great plains, the frontier towns, the building of the railroads in wild unsettled country, homesteading and farmers coming in to take possession." She realized, she said, that she "had seen and lived it all…."
It was a world made and unmade. And it was not without some ambivalence, not without some sense of loss, that the writer watched the Indians, as many as she could see in either direction, ride out of the Kansas of her imagination. Her fictional self, the Laura of Little House on the Prairie, sobbed as they left.
Like my sister, like my cousin, like so many other girls, I was captivated, in my childhood, by that Laura. I was given a bonnet, and I wore it earnestly for quite some time. But when I return to Little House on the Prairie now as an adult, I find that it is not the book I thought it was. It is not the gauzy frontier fantasy I made of it as a child. It is not a naïve celebration of the American pioneer. It is the document of a woman interrogating her legacy. It is, as the scholar Ann Romines has called it, "one of our most disturbing and ambitious narratives about failures and experiments of acculturation in the American West."
In that place and time where one world was ending and another was beginning, in that borderland between conflicting claims, the fictional Laura, the child of the frontier, struggles through her story. She hides, she cowers, she rages, she cries. She asks, "Will the government make these Indians go west?" and she asks, "Won't it make the Indians mad to have to—" but then she is cut off and told to go to sleep. She falls ill and wakes from a fever to find a black doctor attending her. She picks up beads at an abandoned Indian camp and strings them for her sister. The real Laura grows up riding back and forth in covered wagons across the Middle West, passing through immigrant towns and towns where she notes in her diary seeing "a great many colored people." She marries a farmer named Almanzo and settles, finally, in the Ozarks.
Laura Ingalls Wilder loved the land enough to know exactly what had been stolen to make her world. "If I had been the Indians," she wrote in her 1894 diary, as she looked out over a river and some bluffs in South Dakota, "I would have scalped more white folks before I ever would have left it." Read more…