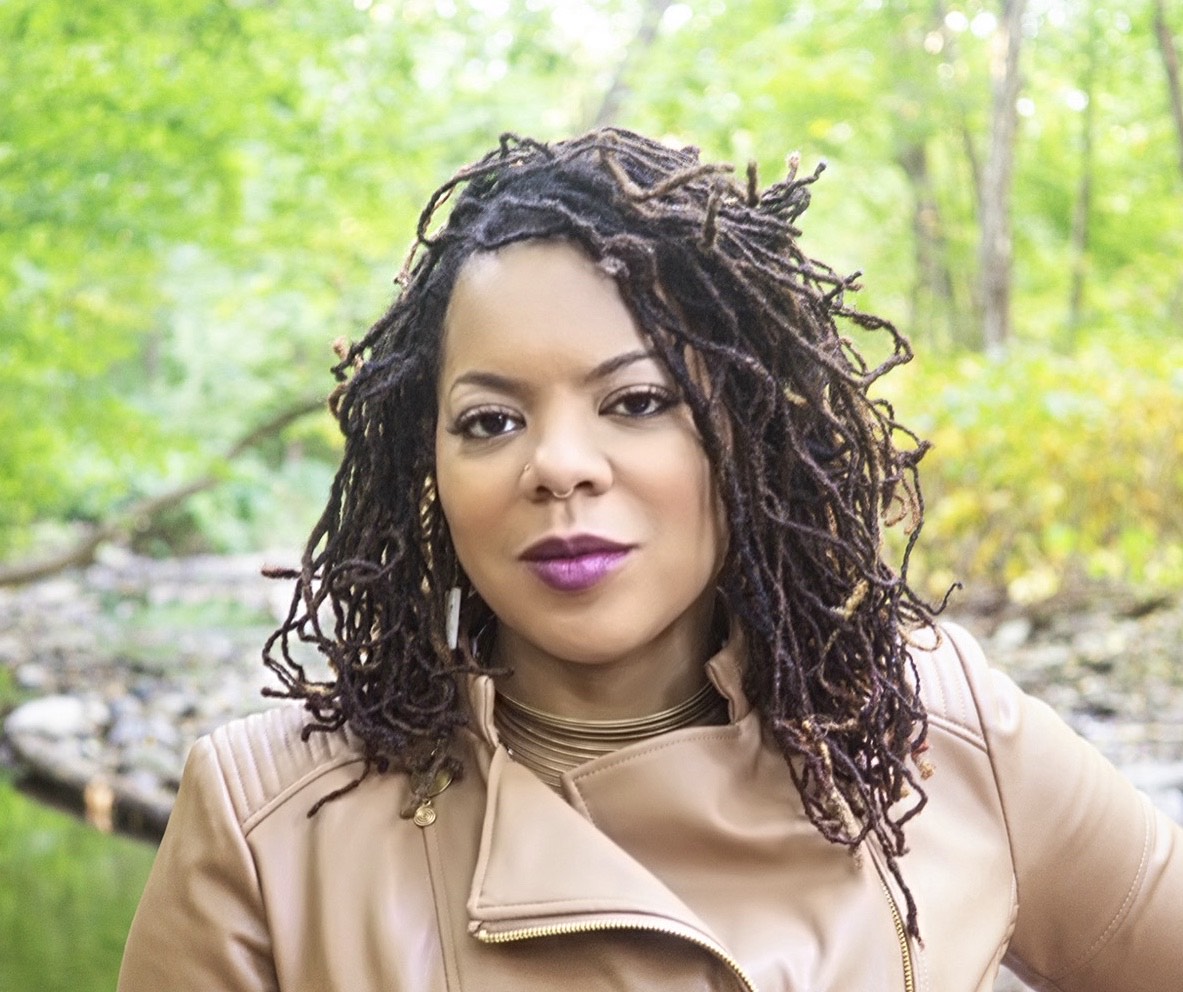 Airea D. Matthews
Acclaimed Poet & Educator
Philadelphia Poet Laureate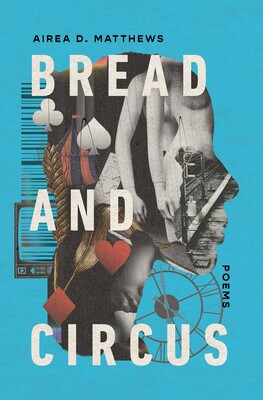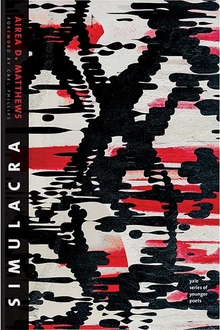 Readings &
Lecture Topics
An Evening with Airea D. Matthews
Biography
"Teethed with wit and uncompromising dignity, Matthews engages the archive as a breathing document, refusing to let history be done with itself, and thereby accomplishes what I love most about poetry—especially hers—that it lives, is living." —Ocean Vuong
"I am grateful to be witness to a writer dismantling the boundaries of form, shape, and language, while not sacrificing any brilliance on the page." —Hanif Abdurraqib
"Matthews's writing is bold, innovative and complex." —Washington Post
Airea D. Matthews is the author of Bread and Circus (Simon and Schuster, 2023) and her critically acclaimed debut Simulacra (YUP, 2017), which received the prestigious 2016 Yale Series of Younger Poets Award. The collection explores the topics of longing and desire with power, insight, and intense emotion. New Yorker critic Dan Chiasson describes Matthews's experimental forms as, "Fugues, text messages to the dead, imagined outtakes from Wittgenstein, tart mini-operas, fairy tales: Matthews is virtuosic, frantic, and darkly, very darkly, funny."
Most recently, Matthews is the author of Bread and Circus (Simon and Schuster, 2023), a memoir-in-verse that combines poetry, prose, and imagery to explore the realities of economic necessity, marginal poverty, and commodification, through a personal lens. Of the collection, Gregory Pardlo noted: "With the genius and ferocity of mother love, Airea Matthews's Bread and Circus shreds our expectations of what poems can be and do while clearing the air of the illusions that cloud our understanding of past, present, self and other. Lift the cover and breathe in the clarity concentrated on these pages."
For her writing, Matthews earned a 2020 Pew Fellowship as well as the 2017 Margaret Walker For My People award. In 2016, she received both the Rona Jaffe Foundation Writers' Award and the Louis Untermeyer Scholarship in Poetry from the Bread Loaf Writers' Conference. Her work has appeared in Callaloo, Gulf Coast, Best American Poets, American Poet, The Rumpus, Tin House, Los Angeles Review of Books, Harvard Review, and elsewhere. A Cave Canem, Callaloo, and Kresge Literary Arts Fellow, Matthews is a founding member of the transdisciplinary art studio The Teeth Factory.
Matthews holds a B.A. in Economics from the University of Pennsylvania as well as an M.F.A. from the Helen Zell Writers' Program and an M.P.A. from the Gerald Ford School of Public Policy, both at the University of Michigan. In 2022, she was named Philadelphia's Poet Laureate. She is an assistant professor and directs the poetry program at Bryn Mawr College, where she was presented the Lindback Distinguished Teaching award.
Short Bio
Airea D. Matthews' first collection of poems is the critically acclaimed Simulacra, which received the prestigious 2016 Yale Series of Younger Poets Award. Matthews is also the author of Bread and Circus, a memoir-in-verse that combines poetry, prose, and imagery to explore the realities of economic necessity, marginal poverty, and commodification, through a personal lens. Matthews received a 2020 Pew Fellowship, a 2016 Rona Jaffe Foundation Writers' Award, and was awarded the Louis Untermeyer Scholarship in Poetry from the 2016 Bread Loaf Writers' Conference. Matthews earned her MFA from the Helen Zell Writers' Program at the University of Michigan. In 2022, she was named Philadelphia's Poet Laureate. She is an assistant professor at Bryn Mawr College where she directs the poetry program.
Visit Author Website
Videos
Publications
Bread and Circus
Poetry, 2023
As a former student of economics, Airea D. Matthews was fascinated and disturbed by 18th-century Scottish economist Adam Smith, and his magnum opus The Wealth of Nations. Bread and Circus is a direct challenge to Smith's theory of the invisible hand, which claims self-interest is the key to optimal economic outcomes. By juxtaposing redacted texts by Smith and the French Marxist Guy Debord with autobiographical prose and poems, Bread and Circus demonstrates that self-interest fails when people become commodities themselves, and shows how the most vulnerable—including the author and her family—have been impacted by that failure. A layered collection to be read and reread, with poems that range from tragic to humorous, in forms as varied and nuanced as the ideas the book considers, Bread and Circus explores the area where theory and reality meet.
Simulacra
2017
"A deft, shape-shifting debut, Matthews surveys the possible responses to what seems ineluctable, offering a work of intrepid imagination, inquiry, and strength." —Publishers Weekly (starred review)
"Simulacra demonstrates how traditional text-based poetry is evolving and adapting to modern molds." —Pacific Standard
A fresh and rebellious poetic voice, Airea D. Matthews debuts in the acclaimed series that showcases the work of exciting and innovative young American poets. Matthews's superb collection explores the topic of want and desire with power, insight, and intense emotion. Her poems cross historical boundaries and speak emphatically from a racialized America, where the trajectories of joy and exploitation, striving and thwarting, violence and celebration are constrained by differentials of privilege and contemporary modes of communication. In his foreword, series judge Carl Phillips calls this book "rollicking, destabilizing, at once intellectually sly and piercing and finally poignant." This is poetry that breaks new literary ground, inspiring readers to think differently about what poems can and should do in a new media society where imaginations are laid bare and there is no thought too provocative to send out into the world.
Articles & Audio
Selected Writings
• Read "Black Ecstatic Ode" — Michigan Quarterly Review
CONFESSIONS FROM HERE
I left our window open most nights. A man with winged ankles would visit while you slept. He'd ask about my doings, how the syrah finished, noticed the dimple on my chin when I smiled, touched the thick swell of my waist, lightly. When the wind whistled like the Northeast Corridor, he'd tongue the small of my back before leaving. After 2 most mornings. I wailed a tempest that last time. Flooded our basement. Asked him to stay or carry me over. He tucked me in the crook of his elbow and flew here. Where I am now.
When you woke the next morning, I imagine you thought it rained the night before. You called the plumber, didn't you? To fix the basement, swollen from squalls? Did you dig your fingernail under the blistering cinder? Check for mold? Did the walls crumble? When you asked the children where their mother was? Did they shrug? Bounce my name between rooms? Weep into their porridge? If they beat their bare feet against the cracked tiles in the hallway, did you notice those tiny feathers sprouting from their Achilles? Did you wrinkle your brow? Grab your shears?
Download Assets
Book Covers
---
Artist Photos