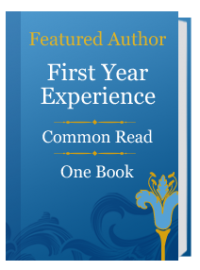 "I think of John as one of the preeminent book people of our time." —Dave Eggers
"Mr. Freeman is not afraid to reveal that the self-assured geniuses of contemporary literati are, in fact, breathing human beings—and as it turns out, this is exactly his aspiration." – The Observer
"All his literary endeavors are meditations on memory and love, which feel like guideposts on a search for authentic self-knowledge." —LA Review of Books
Hailed by the LA Times as "A powerful force in the literary world," John Freeman is an editor and literary curator of the highest order, writer of astute cultural commentary, intrepid poet, and literary advocate whose voice is passionate and clear.
Freeman's body of work includes two anthologies of writing by authors addressing todays social fissures of privilege and inequality in America: Tales of Two Americas (2017) and Tales of Two Cities (2015), the latter of which was hailed by Guernica as "a bristling portrayal of New York in the tradition of Jacob Riis." Freeman's authored books include The Dictionary of the Undoing (2019); How to Read a Novelist (2013)—a collection of 55 deeply informed and closely observed encounters with exceptional novelists, from Haruki Murakami to Edwidge Danticat to Jonathan Franzen; and The Tyranny of E-mail (2011), which considers the consequences of lives spent in an over-stimulated environment of media and communication saturation.
Maps (Copper Canyon Press 2017) is Freeman's debut book of poetry, a collection that charts the impact of place on human experience: in Beirut, Rio de Janeiro, Paris, Rome, and the foothills of a childhood hometown, Freeman navigates legacies of ruin and construction, illness and memory. Warm, mournful, and distinctly urban, Maps offers a compassionate perspective from the experience of one American embroiled in empire. United States Poet Laureate Tracy K. Smith praises the collection: "What is mapped here, in John Freeman's exquisite and robust poetry debut, are the territories of loss, pain, violence, and reckoning that make up a life. And also those of love, remembrance, and unabashed passion that make that same life livable. Maps is a consolation and a delight." The Los Angeles Review of Books writes, "In his poems, Freeman manages to offer an antidote to suffering, chaos, and pain by illuminating the loneliest, darkest places in each of us. His work is its own form of cognitive behavioral therapy for the reader. Instead of probing at the root cause of pain, his poems ask us to acknowledge and appreciate the journey, rethinking our attitude toward it."
A former president of the National Book Critics Circle and editor of Granta, Freeman is the founding editor of Freeman's—a literary biannual anthology of new writing in fiction, nonfiction and poetry, each issue orbiting around a single theme such as Arrival, Family, Home—and executive editor of the online literary news source, Literary Hub. With Freeman's he introduces new literary voices and encourages established writers to venture into new territory—and in three issues, the literary anthology has gained an international following and wide acclaim: "fresh, provocative, engrossing" (BBC.com), "impressively diverse" (O Magazine), "bold, searching" (Minneapolis Star-Tribune). He received the 2018 Energizer Award for Exceptional Acts of Literary Citizenship from CLMP.
Freeman's work has been translated into more than twenty languages and has appeared in The New Yorker, The New York Times, The Wall Street Journal, The Los Angeles Times, The Paris Review, and The Guardian (London). In 2007, Freeman won the James Patterson Pageturner Award for his work as the president of the National Book Critics Circle.
Freeman's teaches writing at The New School and is Writer in Residence at New York University.

John Freeman is the editor of Freeman's, a literary biannual of new writing, and executive editor of Lit Hub. His books include The Dictionary of the Undoing, How to Read a Novelist and The Tyranny of E-mail, as well as two anthologies, Tales of Two Americas and Tales of Two Cities, which include new writing addressing todays social fissures of privilege and inequality in America. Maps is John Freeman's debut collection of poetry from Copper Canyon Press (Fall 2017). His work has been translated into more than twenty languages and has appeared in The New Yorker, The Paris Review, and The New York Times. The former editor of Granta, he teaches writing at The New School and is Writer in Residence at New York University.

THE DICTIONARY OF THE UNDOING (2019)
"A protest, a poem, and a plea, Freeman's utterly original manifesto is a pocket manual for informed political dissent and a must-read for all thinking citizens." —Publishers Weekly
For John Freeman—literary critic, essayist, editor, poet, "one of the preeminent book people of our time" (Dave Eggers)—it is the rare moment when words are not enough. But in the wake of the election of 2016, words felt useless, even indulgent. Action was the only reasonable response. He took to the streets in protest, and the sense of community and collective conviction felt right. But the assaults continued—on citizens' rights and long-held compacts, on the core principles of our culture and civilization, and on our language itself. Words seemed to be losing the meanings they once had and Freeman was compelled to return to their defense. The result is his Dictionary of the Undoing. From A to Z, "Agitate" to "Zygote," Freeman assembled the words that felt most essential, most potent, and began to build a case for their renewed power and authority, each word building on the last. The message that emerged was not to retreat behind books, but to emphatically engage in the public sphere, to redefine what it means to be a literary citizen. With an afterword by Valeria Luiselli, Dictionary of the Undoing is a necessary, resounding cri de coeur in defense of language, meaning, and our ability to imagine, describe, and build a better world.
MAPS (Poetry, 2017)
"John Freeman's astonishing book of poems shows us first an America that could once and sometimes still be experienced in a vacuum, removed from the brutal struggles that are the daily life of much of the world. Then he takes us into that world, where human tenderness is martyred and buried, day after day. In Freeman's hands the most minimal scenes, the smallest gestures, record our persistence and fragility. Disconsolate, loving, burdened by memory, undeceived but somehow still doggedly hopeful, these poems help us to see a world we're just beginning to map." ―Mark Doty
Freeman's poetry debut maps the present by way of the past, drawing inspiration from childhood memories, family, and former loves, charting the impact of place on human experience. Simultaneously world-wide and intimately domestic, Maps is nostalgic with a cool head, and able to examine a younger time with insightful compassion and grace. In Beirut, Rio de Janeiro, Paris, Rome, and the foothills of a childhood hometown, Freeman navigates legacies of ruin and construction, illness and memory. Warm, mournful, and distinctly urban, Maps offers a compassionate perspective from the experience of one American embroiled in empire.
From "You Are Here"
The city grinds
its molars at night, carefully mined
explosions boring cavities beneath
Manhattan, while other lines
ride all hours in yellow light, gliding
to stops at the zebra-painted beam
halfway down each platform,
conductor always pointing up, as if
to say, yes, you are here.
TALES OF TWO AMERICAS (Anthology, 2017)

Poignant and profound, Tales of Two Americas unites a multiplicity of voices into a powerful rallying cry."—NPR 
America is broken. You don't need a fistful of statistics to know this. Visit any city, and evidence of our shattered social compact will present itself. From Appalachia to the Rust Belt and down to rural Texas, the gap between the wealthiest and the poorest stretches to unimaginable chasms. Whether the cause of this inequality is systemic injustice, the entrenchment of racism in our culture, the long war on drugs, or immigration policies, it endangers not only the American Dream but our very lives.
In Tales of Two Americas, some of the literary world's most exciting writers look beyond numbers and wages to convey what it feels like to live in this divided nation. Their extraordinarily powerful stories, essays, and poems demonstrate how boundaries break down when experiences are shared, and that in sharing our stories we can help to alleviate a suffering that touches so many people.
TALES OF TWO CITIES (Anthology, 2015)
In a city where the top one percent earns more than a half-million dollars per year while twenty-five thousand children are homeless, public discourse about our entrenched and worsening wealth gap has never been more sorely needed. This remarkable anthology is the literary world's response, with leading lights including Zadie Smith, Junot Díaz, and Lydia Davis bearing witness to the experience of ordinary New Yorkers in extraordinarily unequal circumstances. Through fiction and reportage, these writers convey the indignities and heartbreak, the callousness and solidarities, of living side by side with people of starkly different means. They shed light on the subterranean lives of homeless people who must find a bed in the city's tunnels; the stresses that gentrification can bring to neighbors in a Brooklyn apartment block; the shenanigans of seriously alienated night-shift paralegals; the trials of a housing defendant standing up for tenants' rights; and the humanity that survives in the midst of a deeply divided city. Tales of Two Cities is a brilliant, moving, and ultimately galvanizing clarion call for a city—and a nation—in crisis.
HOW TO READ A NOVELIST (Essays, 2013)
"To read about the personal, emotional, mental, political, and artistic struggles and triumphs of great writers is to see them as flesh and blood human beings…intimate and thoughtful sketches."― Publishers Weekly
The novel is alive and well, thank you very much.
For the last fifteen years, whenever a novel was published, John Freeman was there to greet it. As a critic for more than two hundred newspapers worldwide, the onetime president of the National Book Critics Circle, and the former editor of Granta, he has reviewed thousands of books and interviewed scores of writers. In How to Read a Novelist, which pulls together his very best profiles (many of them new or completely rewritten for this volume) of the very best novelists of our time, he shares with us what he's learned.
From such international stars as Doris Lessing, Haruki Murakami, Salman Rushdie, and Mo Yan, to established American lions such as Don DeLillo, Norman Mailer, Toni Morrison, Marilynne Robinson, Philip Roth, John Updike, and David Foster Wallace, to the new guard of Edwidge Danticat, Dave Eggers, Jonathan Franzen, and more, Freeman has talked to everyone.
What emerges is an instructive and illuminating, definitive yet still idiosyncratic guide to a diverse and lively literary culture: a vision of the novel as a varied yet vital contemporary form, a portrait of the novelist as a unique and profound figure in our fragmenting global culture, and a book that will be essential reading for every aspiring writer and engaged reader—a perfect companion (or gift!) for anyone who's ever curled up with a novel and wanted to know a bit more about the person who made it possible.
THE TYRANNY OF EMAIL (Nonfiction, 2009)
"Freeman uses lush prose and invokes examples from great literature to make his points. He comes at things not from a giddy utopian perspective that permeates most writing about technology but from a humanist one. It makes the book refreshing and powerful." — Boston Globe
There's no question that e-mail is an incredible phenomenon that represents a kind of cultural and technological advancement. The first e-mail was sent less than forty years ago; by 2011, there will be 3.2 billion e-mail users. The average corporate worker now receives upwards of two hundred e-mails per day. The flood of messages is ceaseless and follows us everywhere.
In The Tyranny of E-mail, John Freeman takes an entertaining look at the unrelenting nature of correspondence through the ages. Put down your smart phone and consider the consequences. As the toll of e-mail mounts, reducing our time for leisure and contemplation and separating us in an unending and lonely battle with the overfull inbox, John Freeman "one of America's preeminent literary critics" enters a plea for communication that is more selective and nuanced and, above all, more sociable.

LEGEND 
My father's father rode the rails
west into Grass Valley and buried three children
in the shadow of a tree that spread its arms around his bakery.
Cold nights he saw stars he didn't
believe existed, and heard wild animals
howling with a loneliness he knew.
Wife dead, every morning
he woke to the bread and chill, horses
snuffling in the dark. He'd starved
before, in Canada, winter so ragged it
killed the dog, and this grief was that
feeling, shifted north into his chest.
The heart is not a diamond pressed down
into something hard like rock, but, rather, the word
my father's father said to himself
those too-cold California nights when
all he could see was the work ahead of him,
the dead behind —
her name.
He'd say her name.
LACKING MEASURES
1.
I have been here forty days and most nights, as
the air thins
to evening chills and the cold white lozenge of
the moon licks
the sky white round its edges, I try to
understand
why I have put myself in a place where all I can
do is watch myself
think. And then think about that thought.
2.
I imagine if I open my skull like a gourd there
would merely be
another head inside, an overgrown seed,
and inside that one
yes another one, and so on. At least they are
mine, but I wonder
what bitter ground they grow from. I am not
however to ask myself
this question, it is macro-temporal,
impossible to know
and they say, incapable of being changed.
3.
We treat the brain so we can deal with
the mind my indulgent
doctor tells me, as if I have sprained my ankle,
his legs crossed
showing bone-white shank wrapped in argyle,
a sinister Christmas
stocking. After each conversation I am allowed
to smoke and after
each smoke I return to the room and cry over
what I have done
and swear to my dead mother it is not her fault
and then the night returns
with its black scarf.
4.
If I am lucky I have the moon's mute worry to
imagine and pray to,
which is the same thing, and what frightens
me more than
her silence, or the tick and creak of such a large
building in the hours
when there are just three digits on the clock,
is how similar being here is to being dead. My life
has been abandoned
like a ship set ablaze and left to drift at sea,
where there is the time
you can see it float away, and then when it
is spied in the distance,
lost at latitude, then it falls from the
map altogether, and it's as if it
was never there at all.