Hisham Matar
Pulitzer Prize-winning Memoirist
Rathbones Folio Prize
Award-winning Novelist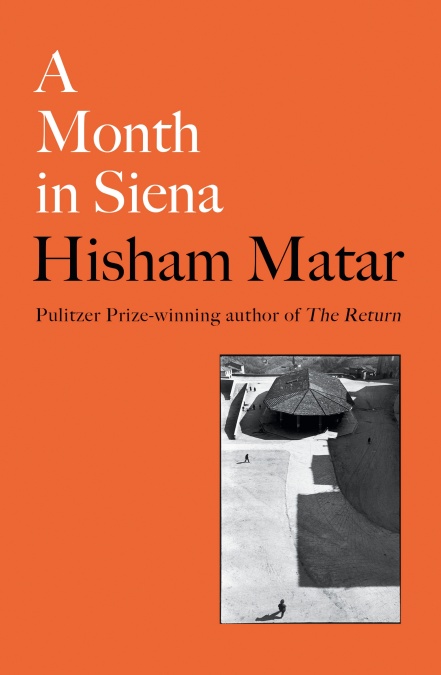 Readings &
Lecture Topics
Navigating the Relationship Between Literature & Politics
Narratives of Social Protest: Personal & Political
Home Truths: Writing About Family
An Evening with Hisham Matar
Biography
"Matar is a careful, controlled writer. His restraint—the spaces and the light between his words—make reading his work a physical as well as an emotional experience." —Los Angeles Times
"Hisham Matar is an observer and listener of enormous subtlety and sensitivity." —The Spectator (UK)
"Matar wrests beauty from searing dread and loss." —Publishers Weekly
"I am no different. I live, as we all live, in the aftermath." —Hisham Matar
Hisham Matar is the author of three novels and two memoir. His most recent memoir is A Month in Siena (2019). His first memoir, The Return: Fathers, Sons and the Land in Between (2016), won the 2017 Pulitzer Prize for Autobiography, the PEN America Book of the Year Award, and the Rathbones Folio Prize. The Return was also a finalist for the National Book Critics Circle Award and shortlisted for the Costa Awards, and was named one of the best books of the year by The New York Times Book Review, The Washington Post, The Guardian, and the Financial Times. The memoir tells of his father's kidnapping when Matar was 19 and studying in London: one of the Qaddafi regime's most prominent opponents in exile, his father was held in a secret prison in Libya and Hisham would never see him again. And yet The Return is an uplifting memoir; Matar recounts his journey home to Libya in search of the truth behind his father's disappearance; he never gave up hope that his father might still be alive. "Hope," as he writes, "is cunning and persistent."
The judges of the Rathbones Folio Prize noted: "The Return shows what a novelist at the top of his game can do with non-fiction. It gives the reader the same aesthetic, the same satisfaction of the great literary works that enter our lives and stay with us forever." The Los Angeles Review of Books says, "The Return is one of the most notable memoirs of our generation, by one of our most elegant living writers. In his testimony to the tenacity of the human spirit, Hisham Matar has shown us what language can do." The New York Times Book Review writes, "For all its terrible human drama…the most impressive thing about The Return is that it also tells a common story, the story of sons everywhere who have lost their fathers, as all sons eventually must." The Guardian says: "His book is bounded by a magnificent gentleness, a softness and care the reader experiences as a blessing. Where did it come from, this humanity, this wisdom? I think it comes from his father—not only in reality but in the idealised version of him that has been a natural corollary of his savage loss."
Matar's debut novel, In the Country of Men (2008), won the inaugural Arab American Book Award and was shortlisted for the Man Booker Prize and the National Book Critics Circle Award; it also won numerous international prizes, including the Royal Society of Literature Ondaatje Prize, a Commonwealth First Book Award, the Premio Flaiano and Premio Gregor von Rezzori. His second novel, Anatomy of a Disappearance (2011), was named one of the best books of the year by The Guardian and the Chicago Tribune. His most recent novel, My Friends, is forthcoming with Viking.
Matar's novels have been translated to twenty-eight languages. In 2013 Matar received the Blue Metropolis Al Majidi Ibn Dhaher Arab Literary Prize, awarded for a substantial literary achievement by an Arab author working in any genre and in any language. He is a Fellow of the Royal Society of Literature.
Hisham Matar was born in New York City to Libyan parents and spent his childhood first in Tripoli and then in Cairo. He has lived most of his adult life in London and now divides his time between London and New York City where he serves as associate professor at Barnard College.
Short Bio
Hisham Matar was born in New York City to Libyan parents, spent his childhood in Tripoli and Cairo, and has lived most of his adult life in London. Most recently, he is the author of the novel My Friends, which is forthcoming with Viking. His critically acclaimed 2016 memoir The Return: Fathers, Sons and the Land in Between won the Pulitzer Prize for Autobiography and received the PEN America Book of the Year Award, as well as the Rathbones Folio Prize. In The Return, he recounts his search for his father, who was kidnapped and imprisoned in Libya when Matar was 19 and studying in London. His debut novel, In the Country of Men, was shortlisted for the Man Booker Prize and the National Book Critics Circle Award, and won numerous international prizes, including the Royal Society of Literature Ondaatje Prize, a Commonwealth First Book Award, the Premio Flaiano and Premio Gregor von Rezzori. His second book, Anatomy of a Disappearance, published in 2011, was named one of the best books of the year by The Guardian and the Chicago Tribune. His work has been translated into twenty-nine languages. He lives in London and New York City.
Videos
Publications
My Friends
Novel, forthcoming
Khaled and Mustafa meet at university in Edinburgh: they are two Libyan 18-year-olds expecting to return home after their studies. In a moment of recklessness and courage, they travel to London to join a demonstration in front of the Libyan Embassy. Government officials open fire, killing a policewoman and wounding eleven Libyan demonstrators. Both friends are critically injured and their lives are forever changed. Over the years that follow, Khaled, Mustafa and their friend Hosam, a writer, are bound together by their shared history. If friendship is a space to inhabit, theirs becomes small and inhospitable when a revolution in Libya forces them to choose between the lives they have created in London and the lives they left behind.
A Month in Siena
Novel, 2019
When Hisham Matar was nineteen years old he came across the Sienese School of painting for the first time. In the year in which Matar's life was shattered by the disappearance of his father the work of the great artists of Siena seemed to offer him a sense of hope. Over the years since then, Matar's feelings towards these paintings would deepen and, as he says, 'Siena began to occupy the sort of uneasy reverence the devout might feel towards Mecca or Rome or Jerusalem'. A Month in Siena is the encounter, twenty-five years later, between the writer and the city he had worshipped from afar. It is a dazzling evocation of an extraordinary place and its effect on the writer's life. It is an immersion in painting, a consideration of grief and a profoundly moving contemplation of the relationship between art and the human condition.
The Return: Fathers, Sons and the Land in Between
Memoir, 2016
"A triumph of art over tyranny, structurally thrilling, intensely moving, The Return is a treasure for the ages." —Peter Carey
A beautifully written, uplifting memoir of Matar's journey home to his native Libya in search of the truth behind his father's disappearance. When Hisham Matar was a nineteen-year-old university student in England, his father was kidnapped. One of the Qaddafi regime's most prominent opponents in exile, he was held in a secret prison in Libya. Hisham would never see him again. But he never gave up hope that his father might still be alive. "Hope," as he writes, "is cunning and persistent." Twenty-two years later, after the fall of Qaddafi, the prison cells are empty and there is no sign of Jaballa Matar. Hisham returns with his mother and wife to the homeland he never thought he'd go back to again. The Return is the story of what he found there. It is at once an exquisite meditation on history, politics, and art, a brilliant portrait of a nation and a people on the cusp of change, and a disquieting depiction of the brutal legacy of absolute power. Above all, it is a universal tale of loss and love and of one family's life. Hisham Matar asks the harrowing question: How does one go on living in the face of a loved one's uncertain fate?
Anatomy of a Disappearance
Novel, 2011
"A haunting novel, exquisitely written and psychologically rich."—The Washington Post

This mesmerizing literary novel is written with all the emotional precision and intimacy that have won Hisham Matar tremendous international recognition. In a voice that is delicately wrought and beautifully tender, he asks: When a loved one disappears, how does that absence shape the lives of those who are left? Nuri is a young boy when his mother dies. It seems that nothing will fill the emptiness her death leaves behind in the Cairo apartment he shares with his father—until they meet Mona, sitting in her yellow swimsuit by the pool of the Magda Marina hotel. As soon as Nuri sees Mona, the rest of the world vanishes. But it is Nuri's father with whom Mona falls in love and whom she eventually marries. Their happiness consumes Nuri to the point where he wishes his father would disappear. Nuri will, however, soon regret what he's wished for. When his father, a dissident in exile from his homeland, is abducted under mysterious circumstances, the world that Nuri and his stepmother share is shattered. And soon they begin to realize how little they knew about the man they both loved.
In the Country of Men
Novel, 2008
This sad, beautiful novel captures the universal tragedy of children caught in their parents' terrors."—Washington Post Book World

Libya, 1979. Nine-year-old Suleiman's days are circumscribed by the narrow rituals of childhood: outings to the ruins surrounding Tripoli, games with friends played under the burning sun, exotic gifts from his father's constant business trips abroad. But his nights have come to revolve around his mother's increasingly disturbing bedside stories full of old family bitterness. And then one day Suleiman sees his father across the square of a busy marketplace, his face wrapped in a pair of dark sunglasses. Wasn't he supposed to be away on business yet again? Why is he going into that strange building with the green shutters? Why did he lie? Suleiman is soon caught up in a world he cannot hope to understand—where the sound of the telephone ringing becomes a portent of grave danger; where his mother frantically burns his father's cherished books; where a stranger full of sinister questions sits outside in a parked car all day; where his best friend's father can disappear overnight, next to be seen publicly interrogated on state television. In the Country of Men is a stunning depiction of a child confronted with the private fallout of a public nightmare. But above all, it is a debut of rare insight and literary grace.
Articles & Audio
Selected Writings
• Something Happens When You Fall: What world will we find on the other side of this? – The New York Times Magazine
• Read full excerpt of his memoir, The Return – The New Yorker

1. TRAPDOOR
Early morning, March, 2012. My mother, my wife, Diana, and I were sitting in a row of seats that were bolted to the tiled floor of a lounge in Cairo International Airport. Flight 835 for Benghazi, a voice announced, was due to depart on time. Every now and then, my mother glanced anxiously at me. Diana, too, seemed concerned. She placed a hand on my arm and smiled. I should get up and walk around, I told myself. But my body remained rigid. I had never felt more capable of stillness.
The terminal was nearly empty. There was only one man sitting in the row of seats facing us. He was overweight, weary-looking, possibly in his mid-fifties. There was something in the way he sat—the locked hands on the lap, the left tilt of the torso—that signalled resignation. Was he Egyptian or Libyan? Was he on a visit to the neighboring country or going home after the revolution? Had he been for or against Qaddafi? Perhaps he was one of those undecided ones who held their reservations close to the chest? Despots and revolutionaries are intolerant of doubt.
The voice of the announcer returned. He read out our flight number again and said that it was boarding. I found myself standing at the front of the line, Diana beside me. She had, on more than one occasion, taken me to the town where she was born, in Northern California. I know the plants and the color of the light and the distances she grew up among. Now I was, finally, taking her to my land. She had packed the Hasselblad and the Leica, her two favorite cameras, and a hundred rolls of film. Diana works with great fidelity. Once she gets hold of a thread, she will follow it until the end. Knowing this excited and worried me. I am reluctant to give Libya any more than it has already taken.
Mother was pacing by the windows that looked onto the runway, speaking on her cell phone. People—mostly men—began to fill the terminal. Diana and I were now standing at the head of a long line. It bent behind us like a river. I pretended I had forgotten something and pulled her to one side. Returning after all these years was a bad idea, I suddenly thought. My family left in 1979, thirty-three years earlier. This was the chasm that divided the man from the eight-year-old boy I was when my family left. The plane was going to cross that gulf. Surely such journeys were reckless. This one could rob me of a skill that I have worked hard to cultivate: how to live away from places and people I love. Joseph Brodsky was right. So were Nabokov and Conrad: artists who never returned. Each had tried, in his own way, to cure himself of his country. What you have left behind has dissolved. Return and you will face the absence or the defacement of what you treasured. But Dmitri Shostakovich and Boris Pasternak and Naguib Mahfouz were also right; never leave the homeland. Leave and your connections to the source will be severed. You will be like a dead trunk, hard and hollow.
What do you do when you cannot leave and cannot return?
***
From Chapter One In the Country of Men
I am recalling now that last summer before I was sent away. It was 1979, and the sun was everywhere. Tripoli lay brilliant and still beneath it. Every person, animal and ant went in desperate search for shade, those occasional gray patches of mercy carved into the white of everything. But true mercy only arrived at night, a breeze chilled by the vacant desert, moistened by the humming sea, a reluctant guest silently passing through the empty streets, vague about how far it was allowed to roam in this realm of the absolute star. And it was rising now, this star, as faithful as ever, chasing away the blessed breeze. It was almost morning.
The window in her bedroom was wide open, the glue tree outside it silent, its green shy in the early light. She hadn't fallen asleep until the sky was gray with dawn. And even then I was so rattled I couldn't leave her side, wondering if, like one of those hand puppets that play dead, she would bounce up again, light another cigarette and continue begging me, as she had been doing only minutes before, not to tell, not to tell.
Baba never found out about Mama's illness; she only fell ill when he was away on business. It was as if, when the world was empty of him, she and I remained as stupid reminders, empty pages that had to be filled with the memory of how they had come to be married.
I sat watching her beautiful face, her chest rise and fall with breath, unable to leave her side, hearing the things she had just told me swim and repeat in my head.
Eventually I left her and went to bed.
When she woke up she came to me. I felt her weight sink beside me, then her fingers in my hair. The sound of her fingernails on my scalp reminded me of once when I was unlucky. I had thrown a date in my mouth before splitting it open, only discovering it was infested with ants when their small shell bodies crackled beneath my teeth. I lay there silent, pretending to be asleep, listening to her breath disturbed by tears.
During breakfast I tried to say as little as possible. My silence made her nervous. She talked about what we might have for lunch. She asked if I would like some jam or honey. I said no, but she went to the fridge and got some anyway. Then, as was usual on the mornings after she had been ill, she took me on a drive to pull me out of my silence, to return me to myself again.
Download Assets
Book Covers
---
Artist Photos