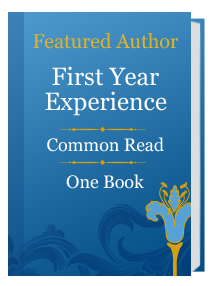 "Mat Johnson writes with all the probing intelligence of James Baldwin, the scalding satire of Dany Laferriere and the technique of a master craftsman, all of which make him one of the most exciting, important and gifted writers of his generation." —Chris Abani
Born to an Irish-American father and an African American mother and raised in the Philadelphia area, Mat Johnson writes primarily about the lives of African Americans, using fiction, nonfiction, and graphic novels as mediums. He is the author of the novels Loving Day (2015), PYM (2011), Hunting in Harlem (2003), and Drop (2000); the nonfiction novella The Great Negro Plot; and the graphic novels Incognegro (2008), Dark Rain (2010), and Right State (2012).
PYM  (2011, Spiegel & Grau) has been described as a riveting adventure novel and a cutting, insightful meditation on race, literature, and obsession. Says Percival Everett, "Johnson's new novel is nothing short of fantastic, in every sense. I fell in love with the voice, the tone and the world of Pym. This is an adventure novel, a work of historical and social commentary, a rumination on identity. The only problem I could find with this novel is that I didn't write it. It's a beautiful piece of work." Johnson's first novel, Drop, is a coming of age novel about a self-hating Philadelphian who thinks he's found his escape when he takes a job at a Brixton-based advertising agency in London, UK. Drop was a Barnes & Noble Discover Great New Writers selection and was listed among Progressive Magazine's "Best Novels of the Year." The work prompted Interview Magazine to name Johnson a "Writer on the Verge." Hunting in Harlem, a satire about gentrification in Harlem and an exploration of belief versus fanaticism, was awarded the Zora Neale Hurston/Richard Wright Legacy Award for Novel of the Year.
Johnson made his first move into the comics form with the publication of the five-issue limited series Hellblazer Special: Papa Midnite (2005), where he took an existing character of the Hellblazer franchise and created an origin story that strove to offer depth and dignity to a character that was arguably a racial stereotype of the noble savage. The work was set in Eighteenth Century Manhattan, and was based around the research that Johnson was conducting for his first historical effort, The Great Negro Plot. The Great Negro Plot is creative non-fiction that tells the story of the New York Slave Insurrection of 1741 and the resultant trial and hysteria.
Vertigo Comics published Johnson's graphic novel Incognegro, illustrated by British artist Warren Pleece with cover artwork by Stephen John Phillips, in 2008 and Dark Rain: A New Orleans Story, illustrated by Simon Gane, in 2010.
Until 2000, Johnson was a regular columnist for New York's Time Out magazine. His column, entitled "Utter Matness," dealt with a wide breadth of issues—some funny, some serious, but all thought-provoking. Johnson also wrote a blog from 2006-2007 entitled "Niggerati Manor," which discussed African American literature and culture.
In 2007, Johnson was named the first USA James Baldwin Fellow by the United States Artists Foundation, a public charity that supports and promotes the work of American artists. He was awarded the 2011 John Dos Passos Prize for Literature and prestigious Hurston-Wright Legacy Award for fiction. He is also a recipient of a Thomas J. Watson Fellowship. Mat Johnson is a faculty member at the University of Houston Creative Writing Program.

Mat Johnson is the author of the novels Loving Day, PYM, Hunting in Harlem, and Drop; the nonfiction novella The Great Negro Plot; and the graphic novels Incognegro, Dark Rain, and Right State. Until 2000, Johnson was a regular columnist for New York's Time Out magazine. In 2007, Johnson was named the first USA James Baldwin Fellow by the United States Artists Foundation. He was awarded the 2011 John Dos Passos Prize for Literature and prestigious Hurston-Wright Legacy Award for fiction. He is also a recipient of a Thomas J. Watson Fellowship.

LOVING DAY (Novel, 2015)
Warren Duffy has returned to America for all the worst reasons; his marriage to a beautiful Welsh woman has come apart; his comic shop in Cardiff has failed; and his Irish-American father has died, bequeathing to Warren his last possession, a roofless, half-renovated mansion in the heart of black Philadelphia. On his first night in his new home, Warren spies two figure in the grass outside; when he screws up the nerve to confront them, they disappear. The next day he encounters ghosts of a different kind: in the face of the teenage girl he meets at a comics convention he sees the mingled features of his white father and his black mother, both now dead. The girl is his daughter and she thinks she's white. Warren sets off the remake his life with a reluctant daughter he never knew and a haunted house and history he knows too well. In their search for a new life they struggle with an unwanted house and its ghosts, fall in with a utopian mixed-race cult, and inspire a riot on Loving Day, the unsung holiday that celebrates interracial love.
RIGHT STATE (Graphic Novel, 2012)
Just in time for the fall election, this race-against-time political thriller follows an ex-Special Forces commando who goes undercover with a militia group that's plotting to assassinate the second African American President of the U.S. In the week leading up to a major campaign speech, the Secret Service discovers the extremist militia group's plot. The best chance to advert this crisis is to infiltrate the group using an ex-Special Forces war hero turned conservative media pundit named Ted Akers. While Aker's politics make him a hero to the right-wing fringe and no friend to the current Administration, he takes the assignment and what follows as an adrenaline fueled race against time to stop a President from dying and a country from being ripped apart.
PYM (Novel, 2011)
"Hats off, please, to Mat Johnson, author of this wonderful, black-humored novel-part social satire, part meditation on race in America, part metafiction and, just as important, a rollicking fantasy adventure. Pym is outrageously entertaining…exuberantly comic…Reminiscent of Philip Roth in its seemingly effortless blend of the serious, comic and fantastic, Johnson's Pym really shouldn't be missed." —The Washington Post
A comic journey into the ultimate land of whiteness by an unlikely band of African American adventurers. Recently canned professor of American literature, Chris Jaynes is obsessed with The Narrative of Arthur Gordon Pym of Nantucket, Edgar Allan Poe's strange and only novel. When he discovers the manuscript of a crude slave narrative that seems to confirm the reality of Poe's fiction, he resolves to seek out Tsalal, the remote island of pure and utter blackness that Poe describes with horror. Jaynes imagines it to be the last untouched bastion of the African Diaspora and the key to his personal salvation. He convenes an all-black crew of six to follow Pym's trail to the South Pole in search of adventure; natural resources to exploit; and, for Jaynes at least, the mythical world of the novel. With little but the firsthand account from which Poe derived his seafaring tale, a bag of bones, and a stash of Little Debbie snack cakes, Jaynes embarks on an epic journey under the permafrost of Antarctica, beneath the surface of American history, and behind one of literature's great mysteries. He finds that here, there be monsters.
INCOGNEGRO (Graphic Novel, 2008)
Writer Mat Johnson, winner of the prestigious Hurston-Wright Legacy Award for fiction, constructs a fearless graphic novel that is both a page-turning mystery and a disturbing exploration of race and self-image in America, masterfully illustrated with rich period detail by Wareen Pleece. In the early Twentieth Century, when lynchings were commonplace throughout the American South, a few courageous reporters from the North risked their lives to expose these atrocities. They were African American men who, due to their light skin color, could "pass" among the white folks. They called this dangerous assignment going "incognegro." Zane Pinchback, a reporter for the New York-based New Holland Herald, barely escapes with his life after his latest "incognegro" story goes bad. But when he returns to the sanctuary of Harlem, he's sent to investigate the arrest of his own brother, charged with the brutal murder of a white woman in Mississippi. With a lynch mob already swarming, Zane must stay "incognegro" long enough to uncover the truth behind the murder in order to save his brother-and himself. He finds that the answers are buried beneath layers of shifting identities, forbidden passions, and secrets that run far deeper than skin color.

from PYM (excerpt from novel)
Always thought if I didn't get tenure I would shoot myself or strap a bomb to my chest and walk into the faculty cafeteria, but when it happened I just got bourbon drunk and cried a lot and rolled into a ball on my office floor. A couple days of this and I couldn't take it so I ended classes a week early and checked into the Akwaaba Bed and Breakfast in Harlem to be among my own race and party away the pain. But mostly I just found myself back in that same ball some more, still on the floor, just at a more historically resonant address. My buddy Garth Frierson, he'd been laid off about six months before, and was nice enough to drive all the way from Detroit to help a childhood friend. This help mostly consisted of him sitting his bus driver ass on my rented bed, busting on me until I had enough shame to get off my own duff and try to make something of myself again.
from DARK RAIN: A NEW ORLEANS STORY (excerpts from a graphic novel)